Despite uncertain economic times, Axis continues to invest to meet growing customer demand. The natural choice was a new RAPLAS 700, to complement the first machine acquired last year (see article).
Patrick Christoux, President of Axis, explains: "After a year's use of the RAPLAS 700, we were able to judge the machine's print quality and speed. The resin we use enables us to produce precise parts with excellent mechanical qualities, and the variable beam sizing gives a surface finish of the highest quality. Our customers appreciate this, and tell us so by recommending their parts on this machine.
To keep up with growing demand, it was natural for us to invest in the same technology and the same brand.
Even though RAPLAS offers an 'open' resin system, which means we're not limited by the manufacturer's resins, we mainly use their white ABS resin , which meets our specifications every time and is REACH-compliant and meets ROHS standards."
If you'd like to find out more about our latest machine and what it can do for you, don't hesitate to contact us via the contact form or directly via our axis@axishello.com consultation e-mail address.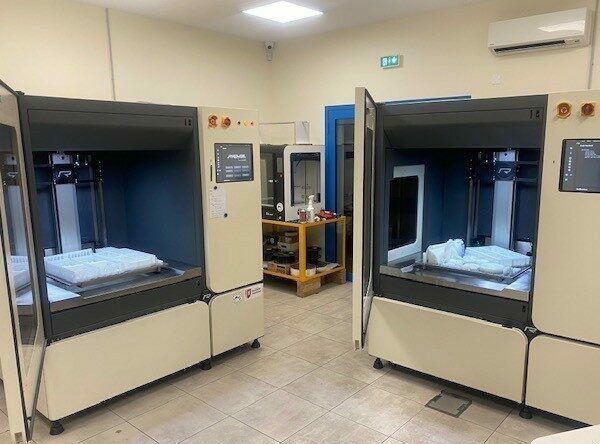 RAPLAS 700 uses SLA additive manufacturing technology. The term ALS comes from StereoLithography Apparatus. This is the oldest modern additive manufacturing method. In fact, it was this technology that gave its name to the STL for STereoLithography. The concept is based on the creation of a three-dimensional object by polymerization using a UV laser. A photosensitive resin is polymerized layer by layer according to the movements of the UV laser, itself directed by the previously established model (3D file). The tray is gradually lowered so that the resin can cover the previous layer. Once the part is fully cured, the tray is raised and the part recovered.
The 700x700x500mm platen allows you to print large parts, with easy access thanks to the space provided. Time-saving and easy to clean parts after printing.
For the more observant among you, you'll certainly have noticed the Stratéo from French company e-motion Tech, a 3D printer based on FDM technology. For more information on this technology, please visit our FDM wire deposition page, and read the article on our investment.