Axis recently invested in the Rolls Royce of FDM 3D printers, with the Strateo from French manufacturer e-motion Tech and the Demi 400 post-processing machine from German manufacturer Rösler.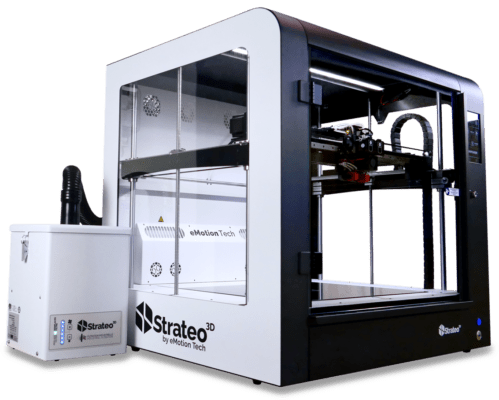 Demand for FDM printing is strong, so it was essential to invest in a new machine that would enable Axis to increase production while maintaining a high level of quality and availability. The Stratéo from our neighbor in Toulouse, e-motion tech, met our exacting specifications.
First and foremost, the Stratéo can print large objects, with a print volume of 600x420x500mm in double extrusion, ideal for soluble substrates. Easy to use thanks to a clear in-house interface, it offers great flexibility in terms of printing materials, supporting ABS, TPU, PA, PC, ASA and also PEKK, increasingly used for functional prototyping projects.
But apart from the good humor and availability of the e-motion tech team, it was above all the machine's build quality that won us over. The machine appears to be robust and of industrial quality, which will enable us to keep up production to meet the many demands of our customers. We'll keep you posted…
Perfect prints with the DEMI 400 from Rösler
To complete the Stratéo and manage the finishing of our FDM and SLA prints, we also acquired a DEMI 400 from the AM Solutions range by German manufacturer Rösler. With its unique, patented SVC (Submersed Vortex Cavitation) system, the DEMI 400 automatically removes media and cleans prints on many of Axis' technologies. Our team will therefore spend less time on these tasks, knowing that the result will be impeccable for our customers.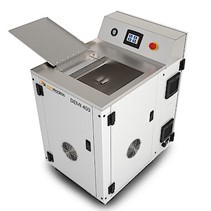 With all these new machines, the Axis team is ready to handle your orders for prototyping or mini-series, so don't hesitate to contact us for more information.