At the end of November, the final of the ANA Avatar XPrize was held in the USA, an international competition considered to be the "Olympics of science". On this occasion, our Bordeaux-based partner Pollen Robotics distinguished itself by taking 2nd place. Matthieu Lapeyre and Pierre Rouanet, who founded the company in 2016, are thus demonstrating the relevance of their robotic solutions on a global scale.
The Axis team is very proud of this result, since we supported the team in the development of Reachy, the big winner for us. Manufactured using our HP MJF technology and painted in-house, it's clear that its look helped to charm the jury.
Reachy is an expressive open-source humanoid platform programmable with Python and ROS. He is particularly good at interacting with people and manipulating objects. Find out more on theteam's websitehere.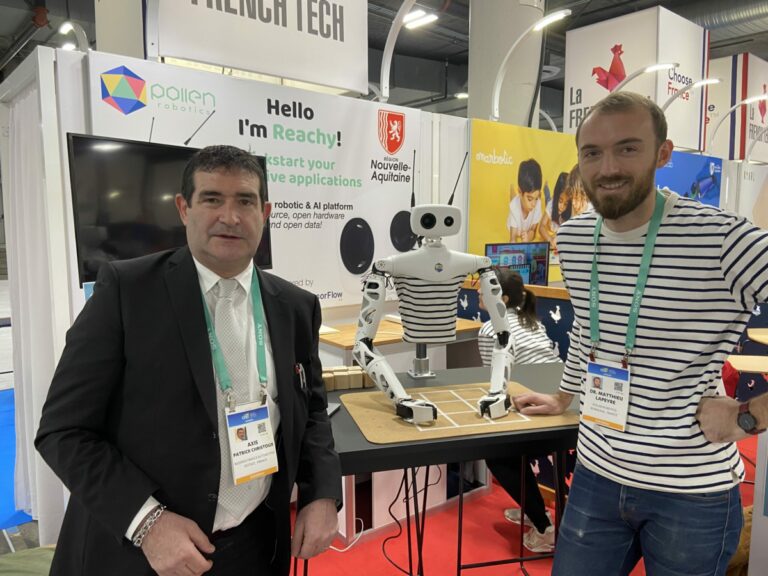 Multi Jet Fusion technology is often used with PA 12 thermoplastics to create ultra-thin layers as thin as 80 microns. This material has a high density and low porosity. Manufactured items are resistant to abrasion and scratches, as well as to light, ultraviolet rays and temperature changes. Our teams of experts have long mastered this technology, enabling us to offer our customers prototypes and mini-series that exceed their expectations.
But it was above all the talent of the Pollen Robotics team that made the difference, as the competition puts the avatars' skills to the test. As you'll see in the video, the robots have to complete a number of events in a minimum amount of time in order to finish first.
Do you know Reachy from Pollen Robotics?
Matthieu explains: "The key to success was getting the very first prototype of our next Reachy to the starting line. New-generation arms that are agile, lightweight and able to handle heavier loads, an adaptive 3-finger hand equipped with sensors to convey the mass and texture of the objects gripped, a redesigned and even faster software architecture, a 3D camera to perceive the full depth of the environment and move easily within it, and a binaural audio system that locates sounds in space.
Our aim now is to finalize these promising developments within our roadmap for Reachy, and offer them to our community of researchers in the spirit that enabled us to shine in this competition: simplicity and accessibility."
If you have any questions about the project or about our HP MJF technology and our capabilities for prototype and mini-series finishing, please do not hesitate to contact our experts.