Every year, Axis takes part in a number of trade fairs to forge new partnerships and continue to showcase its expertise in the field of rapid prototyping.
2019 was no exception, so we took part in national and international trade shows to meet new people and discover new industry sectors.
March 5 to 8, 2019: Global Industrie in Lyon
This show specializes in industrial subcontracting. Every even-numbered year, the event takes place in Lyon, with odd-numbered years in Paris. Axis has been a regular participant at this event for several years, with the aim of meeting new partners and consolidating ties with long-standing customers. For 2019, over 1,200 exhibitors were present for some 46,000 visitors over the 4 days of the show.
May 15-18, 2019: Metal Tech in Kuala Lumpur, Malaysia
This industry event has been running for over a decade. Axis took part with a long-standing partner with a strong presence in the Asian market. Thanks to this show, Axis was able to open up to a new market in which we had little presence, and also to analyze the different skills that suppliers in this part of the world possess. In 2019, Metal Tech welcomed 1,200 exhibitors and 20,000 visitors from 42 countries.
– June 4 to 6, 2019: 3D Print in Lyon
3D is the first French trade show dedicated to 3D printing methods. As Axis is one of the oldest companies dedicated to rapid prototyping using 3D printing, it was natural for us to showcase our skills in the midst of 150 other players linked to French additive manufacturing. We were able to showcase our various technologies (stereolithography, powder sintering, vacuum casting) as well as our finishing capabilities (metallization, priming, inserts, painting to RAL or Pantone color charts…) Created in 2013, this show welcomed over 6,000 visitors at the 2019 edition.
– September 30 to October 3, 2019: CMTS Toronto, Canada
Dedicated to the aerospace and automotive industries, CMTD has been held in Toronto every 2 years for over four decades. As Axis is often solicited in these two sectors, this committee enabled Axis to develop and make itself known on the North American market through its presence at this event.
– October 22-24, 2019: SIANE in Toulouse
Siane or Salon des Partenaires de l'Industrie celebrated its 16th edition in 2019. This annual event brings together customers and subcontractors, particularly those in the Greater West of France. The 2019 edition featured 740 exhibitors for nearly 10,000 visitors.
– November 19-22, 2019: Formnext in Frankfurt, Germany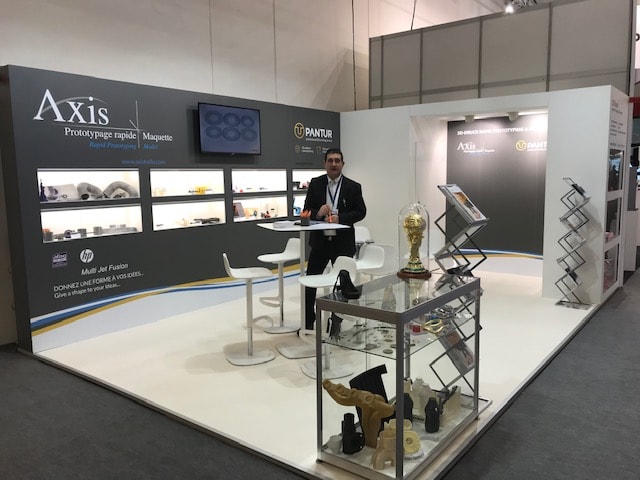 Formnext is the world's largest trade show dedicated to the 3D printing community. This event brings together all the players in the additive manufacturing process industry, from material suppliers to machine manufacturers and prototyping subcontractors. In 2019, 852 exhibitors were present for 35,000 visitors from all over the world. Axis has been taking part for several years, in order to keep abreast of the latest news in 3D printing and to attract potential new customers.
– Fairs planned for the year
2020
For 2020, Axis aims to continue expanding its number of partners, so as to ensure the long-term future of our company and our expertise. We'll be kicking things off on January 7, 2020, with the CES trade show in Las Vegas, thanks to the Nouvelle-Aquitaine region. Then we'll be at Midest from March 31 to April 3 in Paris for this 2020 edition, at the 3D Print trade show from June 16 to 18, and we'll finish with FormNext from November 10 to 13.
If you're planning to attend one of these events, don't hesitate to contact us.
don't hesitate to follow us (via
social networks or our website) to find out all the information you need to
meet us there!