Axis presents its diploma
We are proud to announce that we have just been awarded ISO 9001 version 2015 certification by AFNOR. As you already know, Axis was already ISO 9001 certified, but under the old version of this standard.
ISO 9001 is the standard that provides all the requirements for a quality management system. It is the only standard in the ISO 9000 family to which companies can be certified – although certification is not a prerequisite for applying the standard. Other family standards ISO 9000 standards cover specific aspects such as essential principles and vocabulary, performance improvement, documentation, training or financial and economic aspects… The ISO 9001 sets out the organizational requirements for a quality management system. That's why Axis has taken the step of being certified, in particular for its recognition of quality.
A quality approach at Axis
Our sales team is on hand to advise and guide you in your choice of technology and materials for prototypes and models.
The quality and final rendering of your prototypes are our priority. To achieve this, we do our utmost with the technologies we offer, to meet your specifications and get as close as possible to the expected end result.
We try to be accessible and attentive to your needs, while demonstrating our professionalism.
We are always available to advise and support you, so that we can offer you the most appropriate technical and economic solutions.
Management is committed to the continuous improvement of the Quality Management System, to satisfying customer requirements, and last but not least, to the AXIS team's real strength: responsiveness in all circumstances, as meeting deadlines is fundamental to us.
Last but not least, we make sure we remain responsive in all circumstances, as meeting deadlines is fundamental to us.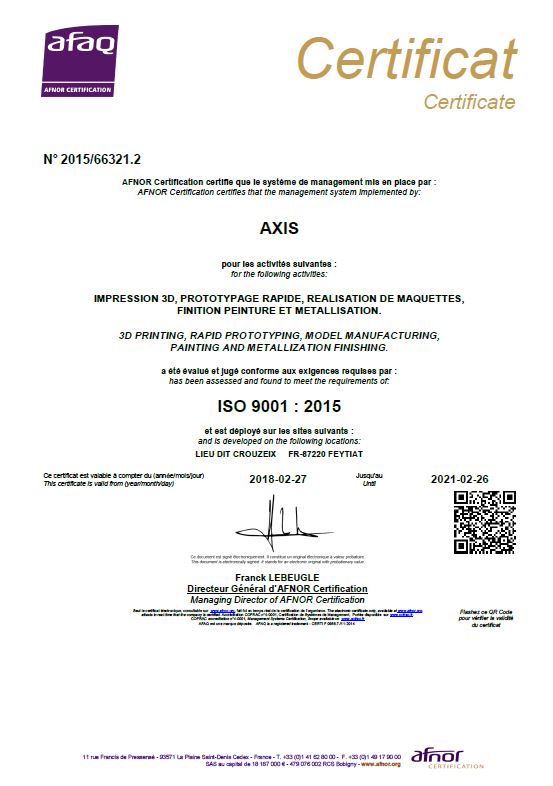 Need to create prototypes and/or models? Axis, a dynamic and competent team at the service of your ideas.