Introduction to HP Multijet Fusion
Multi Jet Fusion (MJF) technology is a 3D printing process exclusive to HP.
In this process, parts are made by spraying melting agents onto thin layers of polymer powder (usually nylon) and then bonding them together using an infrared heat source.
Multijet fusion technology produces functional plastic parts with isotropic mechanical properties that can be used for prototyping or low volume production of functional parts.
The printing dimensions of the machine allow us to print parts up to 380 x 284 x 380 mm.
The benefits of this 3D printing technology
HP's technology has revolutionized the world of additive manufacturing by offering incredible printing speed while maintaining fine dimensional accuracy. This approach allows the production of functional parts with optimal mechanical and thermal properties. This allows us to create complex parts with low porosity in small series.
Materials and finishes of the Multi jet fusion
At Axis we use the Multi jet Fusion mainly with PA12. The material is characterized by good elasticity and high impact resistance. In addition, polyamide has excellent resistance to chemicals such as hydrocarbons, oils and solvents. It combines strength and durability and allows the production of robust and durable prototypes. You will find more information on the material sheet. The pieces produced will have a slightly granular appearance and a grey color in their raw state. You can consult the list of possible finishes below in order to give a perfect finish to your room.
We can finalize your project with :
Manual cleaning of all surfaces
Sandblasted
Black coloration
Painting
Deadlines and part design tips
For the dimensions of your parts we are able to respect the standard NFT 58-000 normal class.
For your 3D printing projects using Multijet Fusion technology, you need 2 to 4 business days depending on size and finish chosen. For your mini series, please contact us to give you a precise deadline according to your parts and quantities.
Concerning the design of your rooms, plan a minimum wall thickness of 0.7mm. If you are making hollow parts, then use 3mm walls and exhaust holes of 20mm in diameter in order to remove the unsintered powder. In case of doubt, do not hesitate to contact us or send us your part for a study before production.
Tolerances: Plan on ±0.2mm or ±0.2% of variation between the 3D file and the actual part. Beware, however, that due to the high temperatures in the powder tray during the printing stage, shrinkage and warping may occur. The parts are usually cooled slowly to limit these phenomena. Large flat surfaces are the most at risk. For large flat and linear areas, we recommend adding ribs to increase rigidity.
HP Multi Jet Fusion technology produces high-quality, functional parts at production speeds up to 10 times faster than other 3D printing technologies.
HP's Multijet Fusion technology produces parts in two large, rapid passes across the entire work surface for high-speed part production. The process begins with the application of a layer of material on the work surface.
In one continuous pass in the opposite direction, the printer deposits fusing and detail finishing agents over the entire work surface. This passage combines printing with fusion energy and the process is thus completed.
HP's proprietary architecture is capable of depositing 30 million drops per second on each inch of layer width, providing extreme dimensional accuracy and precision to produce truly functional parts.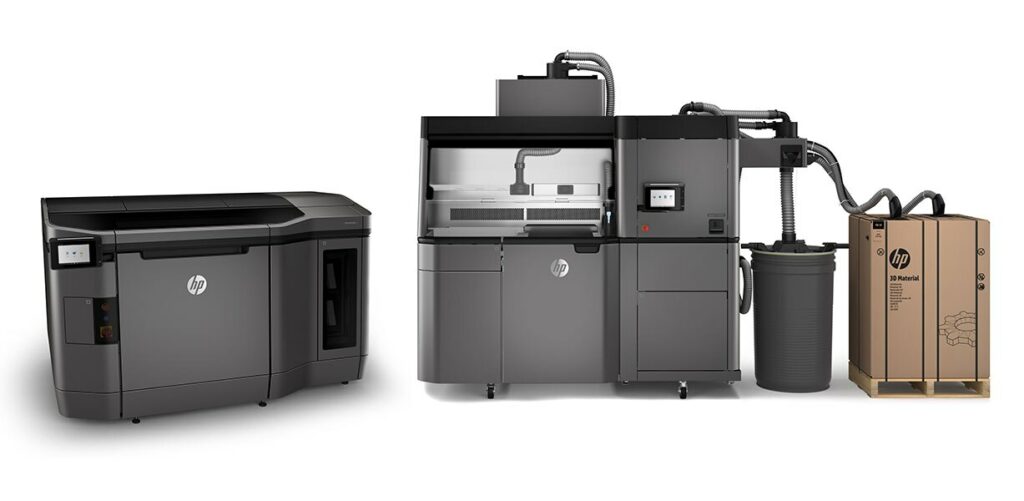 At Axis, we use 2 HP4210 Multijet fusion printers to meet the growing demand of our customers (printer on the left in the picture). But the printer itself is not enough, as it needs a cooling and de-welding station (in the middle of the picture), to allow the part to cool slowly after printing. It is also in this station that the consumable (the nylon powder) will be recovered, to be reused for a next part.