Axis has been producing prototypes for the automotive industry since it was founded in 1997.
Automotive prototyping is at the heart of our business, as many of our customers are in this industrial sector.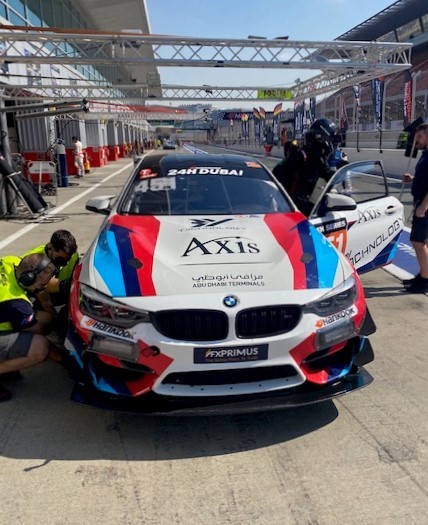 So it's natural for us to sponsor racing cars in major races such as the Hankook 24H Dubai 2021, which takes place from January 14 to 16, 2021. We see a real interest in showcasing our identity on the racetrack, to reaffirm our determination to remain in the automotive prototyping business.
This year, we're sponsoring the BMW M4 GT4 of Team 3Y Technology run by Guillaume Maillard, bearing the number 451. Drivers Gilles Vannelet, Gilles Lallement, Rodrigo Almeida, Vincent Piemonte and Thomas Sørensen will have the chance to drive this vehicle, which was released in 2017 and boasts 431 hp from a 6-cylinder 3.0l M TwinPower Turbo engine.
Whether using powder sintering, Multi Jet Fusion HP, vacuum casting or stereo, we are used to producing prototypes of all vehicle components.

Powder sintering and Multijet Fusion HP are used for technical parts, vacuum casting for mini-series parts and stereolithography for appearance parts. Sintering, with PA 12 glass-filled material for example, is often appreciated for its technical features and high strength. Stereolithography, using Accura Clearvue resin, produces transparent parts with or without a tinted varnish to imitate parts such as headlamps or light guides. Vacuum casting, on the other hand, is the ideal solution for producing parts of varying degrees of flexibility (in A or D shores) in quantities ranging from 5 to 10 or even 50 units, depending on the difficulty of production, and using materials similar to those used for injection molding (ABS, Polypro, POM or PA).
Thanks to our teams of model-makers, we're able to apply a wide range of finishes to your parts to ensure that they're as faithful as possible to the final version that will hit the point of sale, with metallization, paint finishing using specialized body paint, or even the addition of graining for a hyper-realistic rendering.
If you are interested in collaborating with us, please send us your 3D files and specifications via our contact form or directly to our consultation e-mail address axis@axishello.com.