Stereolithography and Xtrem resin
With Stereolithography, we offer you a new material, "Xtreme". This resin is gray in color, with characteristics similar to those of the Accura 25. In other words, it's an ultra-strong, flexible precision plastic ideal for: instant-fit assemblies, master patterns for vacuum molding and prototypes functional and durable, with the appearance of polypropylene (PP) or ABS, but this time colored light gray in the mass because the resin itself is tinted. It offers exceptional durability, precision and aesthetics as an alternative to CNC-machined items. Its features make it ideal for working prototypes in the most demanding applications, as well as for short-term production projects. This Stereolithography material has the appearance of a final manufactured part, offering exceptional durability, impact resistance, precision and strength, as well as heat resistance in excess of 60°C.
Stereolithography and the Pro X 800 machine
Your prototypes will be produced on our new machine: the Pro X 800 from 3D Systems!
This stereolithography machine has the highest level of precision and accuracy, and the widest range ofadditive manufacturing materials. We can produce parts immediately, and create massive, detailed parts massive parts, rich in detail.
Its capacity is 650 x 750 x 550 mm.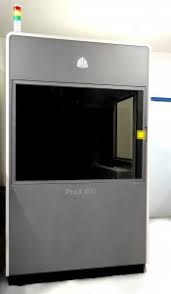 Don't hesitate to contact us or ask for a quote.