Axis gets a foothold in technology
For the 2018 6th singapore international 3d printing competitions Axis produced an electric skateboard for the competition on the theme of "personal mobility vehicles". This request was made because traffic in Singapore is complex. That's why the competition organizers wanted candidates to work on an individual mode of transport. This increasingly popular mode of transport has been the source of many innovations, bringing to market a range of devices to suit every whim and need, from trendy electric scooters to electric wheelchairs. Axis then wanted to offer its electric skateboard.
Following all our efforts, we are pleased to announce that, for the second time, Axis has won an award at the "2018 6th singapore international 3d printing competitions" for our electrical project, designed and produced entirely in-house.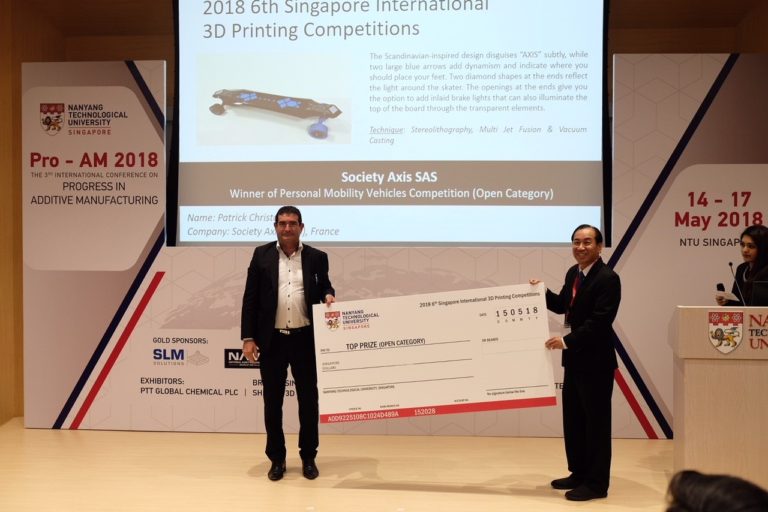 Axis explains its project
On the composition side, several layers symbolize the superimposition of strata during 3D printing. Openings at the ends allow for the installation of brake lights, which can also illuminate the top of the board through transparent elements.
With this object, Axis wanted to show you the different possibilities offered by 3D printing (technologies, materials, colors, finishes, etc.).
The pattern on the top of the board adds lightness, allowing you to choose from a wide range of finishes: gloss, satin, grained, transparent, metallic. The underside of the board, made using the latest Multi Jet Fusion HP process, is colored black. Axis chose to chrome-plate two lozenges at the ends of the skateboard's surface as ornamentation. These shapes reflect the light and the elements surrounding the skater. The blue elastomer elements produced in the Vacuum Casting process ensure good grip. Finally, Stereolithography is used in different ways on the rest of the board (Clearvue resin for transparency, Accura 25 resin for all the small elements, and our new Taurus resistant resin which makes up most of the top of the skateboard).
As for the board's decor, Axis decided to draw inspiration from Scandinavian motifs to hide " AXIS " in a trendy, uncluttered and subtle way. Two large blue arrows stand out in our color identity. These add dynamism and indicate the location of the feet.